matminer¶
matminer is a Python library for data mining the properties of materials.
Matminer contains routines for:
one-line access to 40+ ready-made datasets (matminer.datasets)

Spans various domains of materials data

Full list of datasets here: Table of Datasets

easily creating your own datasets from online repositories (matminer.data_retrieval)

transforming and featurizing complex materials attributes into numerical descriptors (matminer.featurizers)

70+ featurizers adapted from scientific publications

Feature generation routines for

chemical compositions

crystal sites and structures

electronic bandstructure/DOS

function-expansions of features

tools and utilities for practically handling materials data, in dataframe format (matminer.featurizers.conversions)

Full table of featurizers here: Table of Featurizers.

one-line access to pre-trained deep learning models for inference (matminer.models - Coming soon!)
Matminer does not contain machine learning routines itself, but works with the pandas data format in order to make various downstream machine learning libraries and tools available to materials science applications.
matminer is open source via a BSD-style license.
A general workflow and overview of matminer's capabilities is presented below: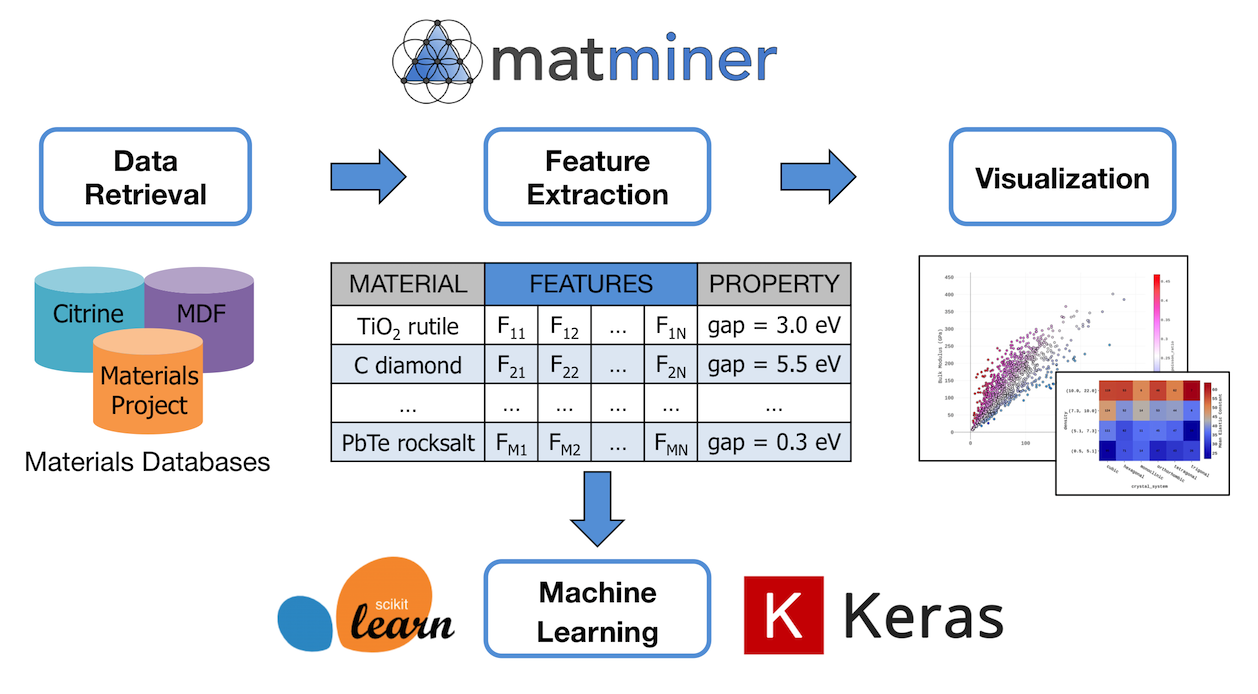 Take a tour of matminer's features by scrolling down!
Quick Links¶
Autogenerated code documentation:
Examples¶
Check out some examples of how to use matminer!
Citations and Changelog¶
Citing matminer¶
If you find matminer useful, please encourage its development by citing the following paper in your research
Ward, L., Dunn, A., Faghaninia, A., Zimmermann, N. E. R., Bajaj, S., Wang, Q.,
Montoya, J. H., Chen, J., Bystrom, K., Dylla, M., Chard, K., Asta, M., Persson,
K., Snyder, G. J., Foster, I., Jain, A., Matminer: An open source toolkit for
materials data mining. Comput. Mater. Sci. 152, 60-69 (2018).

Matminer helps users apply methods and data sets developed by the community. Please also cite the original sources, as this will add clarity to your article and credit the original authors:
If you use one or more data retrieval methods, use the citations() method present for every data_retrieval class in matminer. This function will provide a list of BibTeX-formatted citations for that featurizer, making it easy to keep track of and cite the original publications.

If you use one or more featurizers, please take advantage of the citations() method present for every featurizer in matminer.

If you use one or more datasets, please check the metadata of the dataset for a comprehensive list of BibTex formatted citations to use.
Contributions and Support¶
Want to see something added or changed? Here's a few ways you can!
Help us improve the documentation. Tell us where you got 'stuck' and improve the install process for everyone.

Let us know about areas of the code that are difficult to understand or use.

Contribute code! Fork our Github repo and make a pull request.
Submit all questions and contact to the Discourse forum
A comprehensive guide to contributions can be found here.
A full list of contributors can be found here.